Welcome to the linky party that rejuvenates your old quilting/sewing posts!
Please click
here
to read more about this linky party.
This week's theme is: READING
Oh my...I've had one of those days where I kinda forgot what day of the week it is! LOL!! Anyhooo....this week's Tuesday Archives theme is reading. I know, not a quilty theme, but never-the-less, a past-time I notice many of us quilters do enjoy. I usually read in the summer as I always get so caught up in a book and end up staying up way too late reading!
But last Friday temptation got the best of me as I found myself enjoying our beautiful weather by strolling through our downtown shops: A "vintage" shop going out of business, "country collectibles", and yes, the used book store...in which I almost immediately found a good read. I then treated myself to a few hours at our favorite coffee shop downtown. I relaxed with a yogurt lunch, some green tea and let myself get lost in the beginning of a new story. (Of which is almost done!)
I enjoy the
Elm Creek Quilts novels by Jennifer Chiaverini. Lucky me,
my mom keeps me well stocked. (THANK YOU MOM!) But in-between, I like a new read. I got hooked on this series below after
Carole's blog post.
(I'm off to the public library soon to check out the last one of the series
!)
Bernie over at
Needle and Foot
came up with the most creative idea and started a Fabric and Fiction book share. I got in on the Winter Book Share and am looking forward to my turn.
Click
HERE
to read all about her cool happy mail/quilters book club of sorts.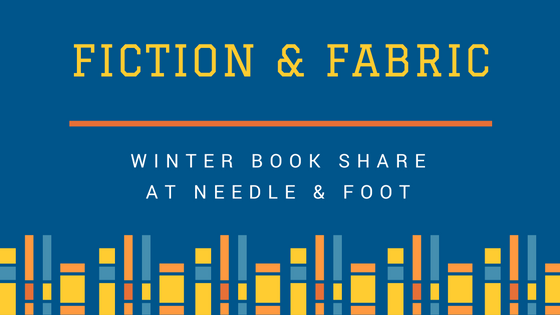 And I know many of you also post your "current" read on your sidebars too. (Cause I'm always looking) So this week guys, really, feel free to create a new post with your favorite recommendations and/or rejuvenate your already published book/reading posts. I'll leave the linky open till next Monday but know this week's linky theme is open to anything that has to do with reading. Enjoy!